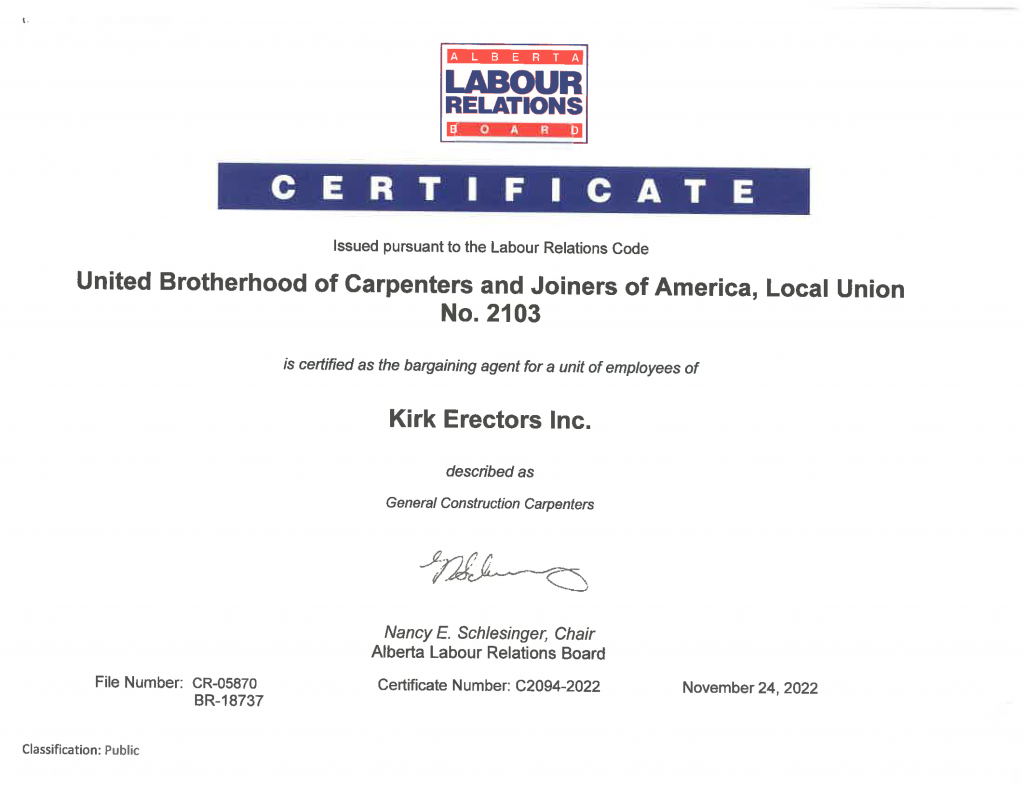 Beyond recruitment and the advocacy they provide, UBC organizers and business representatives are always working to gain market share for the UBC and its members. This is essential to ensure UBC contractor partners can stay competitive and to raise the bar in labour standards across the board, including on the non-union side.
A great example of this work in action is the UBC's recent Alberta Labour Relations Board victory with its certification of Kirk Erectors Inc. In February 2022, UBC Local 2103 filed a Labour Board certification to unionize the American cooling tower company, which was followed by two rounds of hearings.
In the first hearing, the Labour Board initially asserted there were no carpenters employed with Kirk Erectors. However, Local 2103 was able to prove there were in fact carpenters working as employees of the company. The Labour Board had also indicated the UBC's application could not proceed to a vote because it was filed under the wrong company name.
However, once again, Local 2103 was able to overcome the company name issue and get the Board to process the application for certification. After the first round of hearings was completed, there was a vote conducted and sealed, pending the conclusion of the second round in the hearings, to determine which bargaining unit the work was being done under.
The second round was to determine whether the bargaining unit was under Maintenance or General Construction. Local 2103 emerged victorious once again by proving the bargaining unit was under the UBC's General Construction Agreement, which is a registered agreement.
At the conclusion of the hearings, the labour board finally was able to count the vote. Kirk Erectors carpenters voted unanimously: 100% YES in favour of joining the union!
With the addition of Kirk Erectors, the UBC now has two of Alberta's three largest cooling towers operating under our union banner. And with more cooling tower work on the horizon, this is a major win for the UBC and its members in Alberta.
Congratulations to the Organizers of Local 2103 and carpenters of Kirk Erectors for their hard work to grow the market share of the UBC here in Alberta.