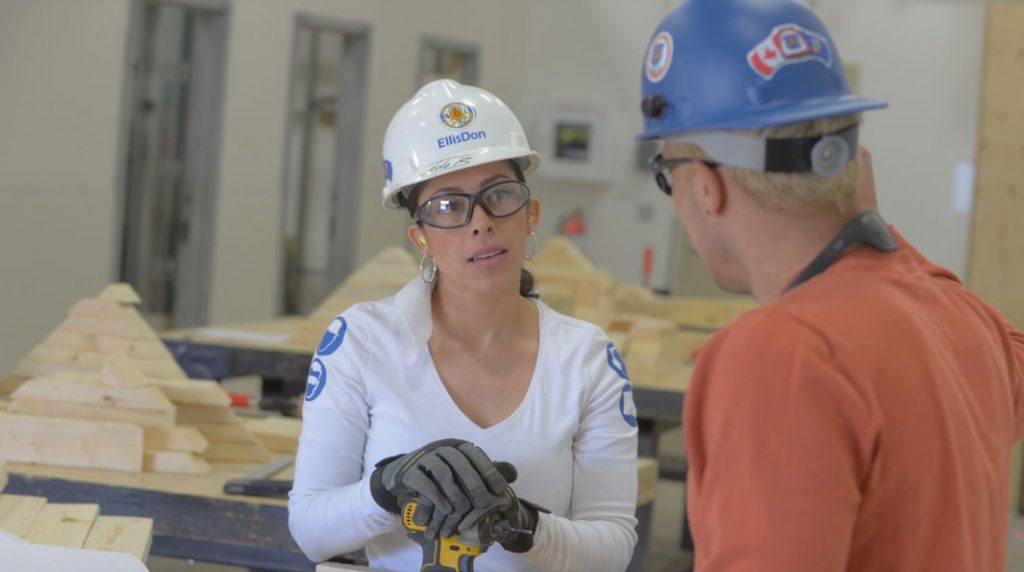 Airdrie East NDP candidate & Journeyman scaffolder Roxie Baez Zamora is hoping to trade in building one type of platform for another.
Talk with Roxie Baez Zamora for a few minutes and you get the sense that you're speaking with someone who's committed to making a difference. Well-spoken, energetic and driven with a passion for taking care of people, Baez Zamora will draw on her past as an immigrant daughter of a community leader and entrepreneur, and as a union scaffolder and safety officer, to represent the residents of Airdrie east in the provincial government.
Born and raised in a small town near the bustling metropolis of Zapopan, Jalisco, Mexico, Roxie Baez Zamora has never been a stranger to hard work and hustle. Her father was a carpenter and built furniture which is where Roxie thinks she got her love of hard work. "I wasn't allowed to help out in the shop too much, but I've always been a hands-on person," Baez Zamora said.
Roxie's father was also a leader and had a talent for inspiring others to get involved to get things done. "He brought people together to improve the roads in our community – which at the time were all dirt," she said.
Her father's leadership in the community, meant that Roxie made friends with people of all walks. "There were definitely some people who were struggling and not on the right path." Roxie said. "We came from different backgrounds, but at the core of it, we were all just people," she continued.
Growing up in Mexico gave Roxie the opportunity to meet different people from the world as well. A popular tourist destination, there was no shortage of people visiting from the cold climes of Canada. When she was 18, Baez met a Canadian man from Saskatchewan. The two fell in love and a long story short, they moved to Canada – where she would find her way into the trades.
At the time, the potash industry was booming in Saskatchewan and her husband's family owned a busy scaffolding business in Regina. Roxie was working as a hairdresser at the time when her husband suggested she may want to consider a career change. "My husband said, 'hey, I know you're not happy just doing hairdressing, do you want to come check out scaffolding?' I was like Hell yes, let's do it," she said. And so, nine years ago, she joined the hall and started putting pipes together as a scaffolder.
For those who wonder why she would give up the warmth and safety of being a hairdresser to become a scaffolder, Roxie explains, "I've always liked hard, physical work. Ever since I was a child."
"I've always liked hard, physical work. Ever since I was a child."
So, when she became a scaffolder, she took to the job right away — even though she was just one of two women on the crew. "I'm no pioneer, but it was fairly uncommon for a woman to be involved in the trades like that," she said. And she admits there were a fair number of challenges to overcome in a male-dominated industry. "I always took it as a personal challenge," she said. "Working in an environment like that brings a lot of opportunities for personal growth. Especially as a female," she continued.
"I knew if I could be a team leader, working with men who are older than me and gain their respect – I would have the type of leadership skills and experience I couldn't get anywhere else," she said.
Her experience as a scaffolder is quite diverse, having worked in potash mines in Saskatchewan and the oil industry here in Alberta.
Like many Albertans in the trades, she's also made more than a few trips up to Fort McMurray and has worked at Syncrude in a leadership role. She admits she got to do a lot of things she didn't think she would have the opportunity to do — like building ladders and transfer lines for coker units.
After she and her husband divorced. Roxie found Regina a bit too small and moved to Calgary, transferred to Local 2103 and earned her journeyman certificate.
She also took an interest in safety and became an National Construction Safety Officer (NCSO) and believes the safety of our workers should be a top priority. "What we do is very hard on our bodies," she said. She admits, it's this desire to look out for others that inspired her to run in this provincial election. "I want to take care of people and I believe in fighting for what's fair," she explained.
Her desire to protect her brothers and sisters on the job has led to her stepping up to speak for the working class in our province. "We are the back and bone of Alberta," she said.
"There are people who make decisions that impact us, the middle class, and yet there's nobody there from us, who have been inside a coker, built scaffolding, or worked as a carpenter to stand up and say 'no, you can't treat us like that," she continued.
And that's why, this past December, she decided to go forward and run for office as the New Democrat Party representative for Airdrie East where most residents are young families whose lives depend on the health of the energy sector. "I think there's a lot of opportunity to build a strong community," she said.
She follows the definition of go-getter and believes that if you want something, you have to go out and make it happen. That was the case when she could no longer find a particular brand of jeans she wore when she was a teenager in Mexico. During a trip to visit family in Mexico, she did her research and contacted the owner of the company and negotiated the distributing rights for Canada. "The next thing I know, I'm coming back to Canada with three hundred pairs of jeans," she said.
Roxie is also in real estate, owning both an air b-n-b and rental property she rents out to hardworking folks at a what she considers a fair rate so they can get ahead. "My father's influence was pretty big and he was behind me all the way. It's important to strive for personal success, but not at the cost of others," she said. "And when you have an opportunity to stand up for others, you take it."