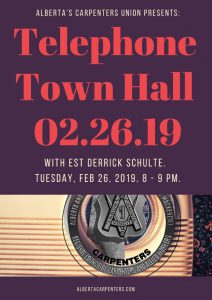 The Alberta-wide Carpenters Union Telephone Town Hall is ON AGAIN!
We're set up to go live at 8 pm on Tuesday, February 26. The call will last for one hour.
Just like last time, we will send an automated message on Monday to your phone number as listed in your Personify profile (union database). Then, we will call that same phone number LIVE at 8 pm on Tuesday night. Please call the front desk of your union hall to update that number if necessary. 1.800.272.7905 is toll-free to the Edmonton hall.
If you DO NOT want to receive a call, please let Jeff Sloychuk know by Tuesday morning so he can remove you from the list.
If you have an out-of-province area code, you MIGHT NOT receive a call. Due to CRTC regulations, 8 pm MST is too late for us to automatically dial east of Saskatchewan or Manitoba.
You may also dial-in if for some reason the call does not reach your preferred number. The number to dial-in on your own will be sent on the day of the event.
We have had issues in some areas with cell network towers, due to the large amount of calls we are making at once.
All participants choosing to ask a question will be required to provide name and Union ID.
Please remember that this event is not an official union meeting, but is a chance to communicate your thoughts to the leadership of the union, and keep your pulse on what the union is working on daily to help build the membership.