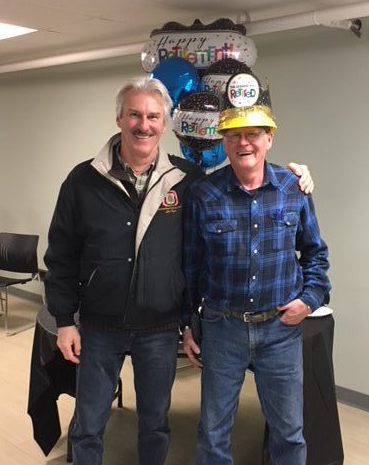 You can accomplish a lot in 38 years. Just ask Local 2010 member Dennis Kramps. During his career at ATCO, Dennis helped build thousands of trailers and kitchens for work camps, served as shop foreman, worked as shipper/receiver, and drove one of the biggest forklifts in Alberta.
He began his career as a carpenter in 1981 building trailers. "I was one of the first builders there," adds Dennis. "We did some unique work. We even built a two-thousand-man camp that was sent to Russia." His hard work ethic paid off and he became the shop foreman and running ATCO's Spruce Grove facility. Later he moved into the role of shipper/receiver at ATCO Metals. Prior to retiring, Dennis spent four years operating a massive forklift hauling trailers and blast units that were 165,000 lbs. of solid steel. "We used to do it all with the forklift," says Dennis. "I knew the forklift so well that I could pick up a hard hat with it."
The longest-serving employee at ATCO's Spruce Grovefacility, Dennis worked alongside his union family and his actual family as well – brothers Claude and Gene who were both worked for ATCO for over 20 years. "Gene was a siding expert and could do an entire 60-foot trailer in one day, and Claude did electrical and plumbing," says Dennis. He also had a chance to work together with his brother Albert, who was a machinist and drove the forklift, and nephews Colin and Mark worked as welders.
It wasn't always smooth sailing though. The up-and-down Alberta economy provided its share of layoffs during his first 10 years at ATCO. Whenever Dennis and his brothers were laid off, they would work construction and over the years, the brothers built seven private homes, "Between me and Gene and Claude we can do a whole house," he adds.
On his last day, just a week after he turned 65, the folks at ATCO threw a soiree to celebrate Dennis' long and productive career. The turnout was great. Dennis' brothers Claude and Gene were there along with friends, co-workers and former managers – all showed up to give him a proper send off and wish him well. "It was quite the sendoff," says Local 1325 Business Representative George Wilson. "And you could tell Dennis was quite tickled."
When asked if he had any wisdom to pass on to those getting started in their careers, Dennis shares, "Learn your job and learn it well. Know it inside out. I always knew I had a job when there was a problem and they called me to fix it," he says. Dennis also feels that the Union is a great thing. "We had good union reps and union people," he adds. "We got our raises every year, some we won, some we lost, some we had to fight for. My pension is so good, it was good to have the union behind me."
Though he's retired, this 65 year-old doesn't know the meaning of the word. "I don't think I've stopped working," muses Dennis. "There are so many jobs people want me to do. I build cabinets, renovate houses and basements, and there's plenty of work." Add gardening and driving the tractor around his property and Dennis has enough to keep him busy for a long while.
On behalf of everyone in Local 2010, congratulations on your retirement Dennis and on a job well done.