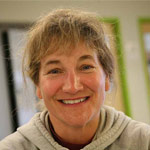 Marie's a pushing-50, single mom, Level 2 scaffolder from Grande Prairie who needed a job, and thankfully listened to someone who told her a local company was hiring.
"I had worked as a cabinetmaker various time, for about $14 an hour. The day I started as an apprentice union scaffolder, I was earning $20 an hour, with great benefits!
While she did have some accounting-bookkeeping experience, Marie's the kind of person who thrives doing physical work.
"I'm working with a great crew, and I just love moving so much during the day. The work keeps my body and my mind healthy. I've never had any problems with the physical nature of the work – believe me, I put a lot of 20-something men to shame.
"It's a fine trade, as long as you're willing to hustle," she says.
Marie says she really appreciates being with the union, because when she needs new work, she doesn't have to pound t
he pavement with her resume…"I just leave it up to Dispatch!"